And in what he describes as a mystical experience, according to the UK Guardian: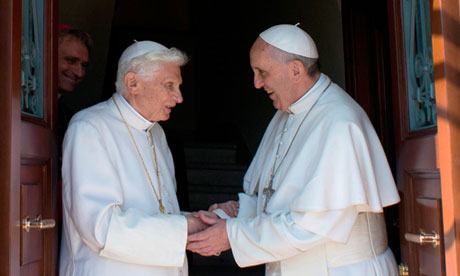 The former pope Benedict has claimed that his resignation in February was prompted by God, who told him to do it during a "mystical experience".
Breaking his silence for the first time since he became the first pope to step down in 600 years, the 86-year-old reportedly said: "God told me to" when asked what had pushed him to retire to a secluded residence in the Vatican gardens.
Benedict denied he had been visited by an apparition or had heard God's voice, but said he had undergone a "mystical experience" during which God had inspired in him an "absolute desire" to dedicate his life to prayer rather than push on as pope.
The German ex-pontiff's comments, which are said to have been made a few weeks ago, were reported by the Catholic news agency Zenit, which did not name the person Benedict had spoken to.
[...]
Benedict said his mystical experience had lasted months, building his desire to create a direct and exclusive relationship with God. Now, after witnessing the "charisma" of his successor, Pope Francis, Benedict said he understood to a greater extent how his stepping aside was the "will of God".
[...]
Zenit reported that Benedict has stuck to his plan to live a life of secluded prayer, receiving very few visitors at his house in the Vatican's gardens, which enjoys views across Rome to the Apennine mountains beyond.
"During these meetings, the ex-pontiff does not comment, does not reveal secrets, does not make statements that could be understood as 'the words of the other pope', but is as reserved as he has always been," wrote Zenit.
[...]
Benedict took his first day trip out of the Vatican on 18 August, walking in the gardens at the papal summer residence at Castel Gandolfo, outside Rome, where he stayed after his retirement while his new house was being refurbished. Benedict did not risk running into Francis, who has preferred to stay at his desk at the Vatican during the summer.
_________________
To me, the money quote in all of this: "the ex-pontiff does not comment, does not reveal secrets".
This we know.
Our Lady of Fatima, pray for us!